EVERTON RESOURCES ASSAYS CONFIRM LITHIUM POTENTIAL - BLUE SKY JACKPOT LITHIUM PROPERTY, ONTARIO
Ottawa, Ontario – (August 23, 2016) - Everton Resources Inc. ("Everton" or the "Company") (TSX-V:EVR) is pleased to announce that it has received the assay results from the Blue Sky Jackpot Lithium Property in the Thunder Bay Mining District of Ontario approximately 150 kilometers northeast of Thunder Bay. Results ranged up to 7.08 % LiO2, the following table presents the distribution of lithium oxide assay results. Follow the link for the map and assaying data.
Assay Result Distribution
| | |
| --- | --- |
| Number of Samples | LiO2 (%) |
| 1 | 7.0 – 8.0 |
| 3 | 6.0 – 7.0 |
| 3 | 5.0 – 6.0 |
| 6 | 4.0 – 5.0 |
| 6 | 3.0 – 4.0 |
| 8 | 2.0 – 3.0 |
| 1 | 1.0 – 2.0 |
| 1 | 0.5 – 1.0 |
| 9 | < 0.5 |
| 38 samples assayed | |
Blue Sky Jackpot General 2016 Aug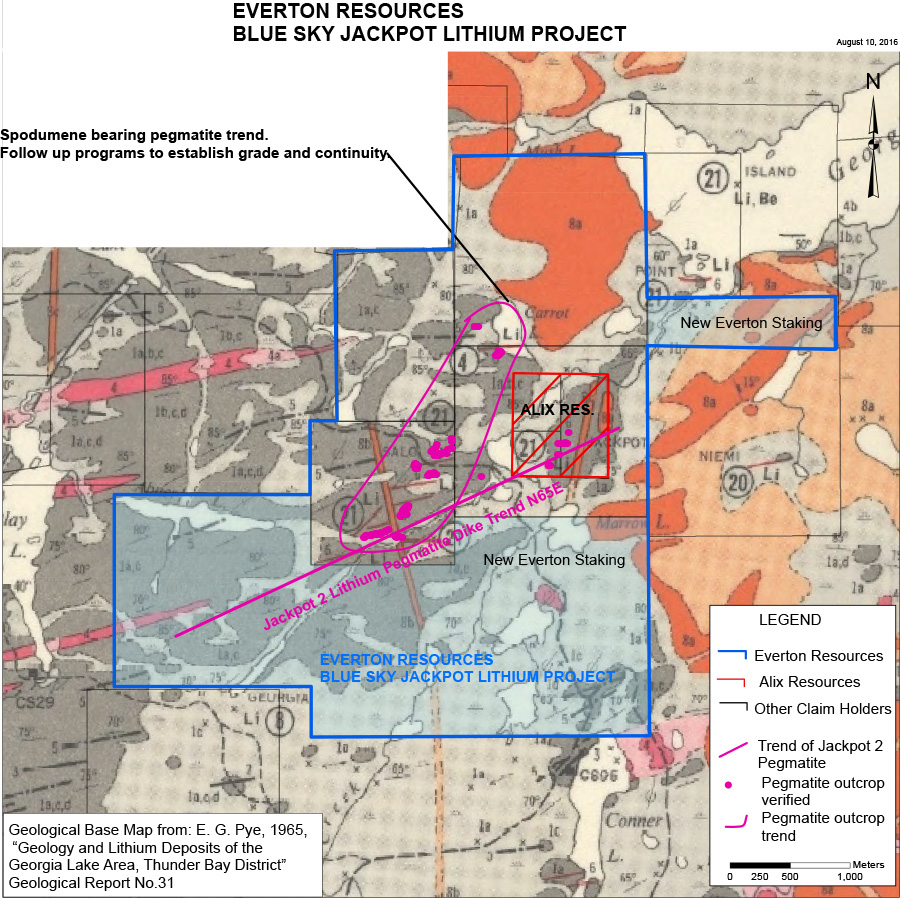 The full list of assay result, maps indicating sample locations and photographs of samples providing some context for these assay results are available on www.evertonresources.com. All rock samples submitted were of bedrock material, obtained with hammer and chisel on best grab basis. These results prove the lithium bearing nature of some of the pegmatite dykes. The continuity and grade of lithium within individual pegmatite dykes can only be assessed through a more detailed evaluation.
The assay results received validate visual observations of spodumene during the field program and confirms the presence of a two-kilometer trend about 300 meters wide consisting of several distinct outcrop areas of spodumene bearing pegmatite. Multiple sub parallel spodumene bearing pegmatite dykes are present associated with a generally northeast – southwesterly trending structural corridor. The pegmatite outcrops are commonly situated in distinct subcrop trends that infer bedrock continuity in excess of 200 meters. While it is not possible to establish the orientation or widths of the individual pegmatite dykes at this time observation indicate that there is considerable variation from sub-horozantal to sub-vertical. There is an general trend to observed intrusive contacts with an overall northeast-southwest strike. Overburden cover usually obscures the evaluation of the width of the pegmatite dykes, however the observations of widths reported by E.G. Pye 1965, "Geology and Lithium Deposits of the Georgia Lake Area, Thunder Bay District" Geological Report No.31 have been validated.  Locally structure, topography combined with intermittent bedrock outcrop and observed intrusive contact of a pegmatite dykes locally provides some evidence to indicate substantial widths of steeply dipping spodumene bearing intrusive.
A previously undocumented 100meter long intermittent series outcrops of pegmatite was encountered 200 meters southwest of the Alix Resources claim group trending N65E. Sample 876038 returned the equivalent of 2.96% lithium oxide from this dyke, The width and orientation of the dyke could not be determined as no contacts or other bedrock was observed. Everton's Blue Sky Jackpot Lithium property surrounds the Jackpot Occurrence, a small four claim unit group in the center of the Everton property, that is also described by E. G. Pye in his 1965 report as reportedly hosting a historic non-compliant resource of 2 million tons of 1.09% lithium oxide.
Assays were performed by ALS Canada using their Li-OG63 method for ore grade lithium samples which reports the percent of elemental lithium in the sample. The assays data is presented in this news release as equivalent lithium oxide using a standard conversion factor of 2.153.
Based on these positive results the Company is considering going back to the property this fall to take some mini bulk samples (50-100 pound samples) from several of the areas with high grab values to try and establish lithium grade and start the permitting process to better determine continuity of high grade areas.
The technical content of this release was reviewed by Wade Kornik, P.Geo., a qualified person as defined by the National Instrument 43-101.
About Everton Resources Inc.
Everton is an exploration company with concessions in the Dominican Republic adjacent to the Pueblo Viejo Mine, owned by the world's two largest gold mining companies, Barrick Gold Corporation (60%) in partnership with Goldcorp Inc. (40%) ("Goldcorp"). Everton also holds an interest in the Opinaca region of James Bay, Quebec where the Company has partnered with Hecla Mining Company which is advancing Everton's interest in the Opinaca B project by funding 100% of all exploration work on one of the largest land packages adjacent to Goldcorp's Eleonore gold deposit. Everton recently announced the acquisition of two properties: the Blue Sky Jackpot lithium property in Ontario and the Detour Lake gold property in Quebec.
For further information on Everton Resources Inc., please visit: www.evertonresources.com
Everton Resources Inc.
Andre Audet
Chairman and CEO
Tel.: 613-241-2332
Fax: 613-421-8406
[email protected]
www.evertonresources.com
This news release contains certain forward-looking statements that involve risks and uncertainties, such as statements of Everton's plans, objectives, strategies, expectations and intentions. The words "may", "would", "could", "will", "intend", "plan", "anticipate", "believe", "estimate", "expect" and similar expressions, as they relate to Everton, or its management, are intended to identify such forward-looking statements. Many factors could cause Everton's actual results, performance or achievements to be materially different any future results, performance or achievements that may be expressed or implied by such forward-looking statements. The forward-looking statements included in this press release represent Everton's views as of the date of the release. While Everton anticipates that subsequent events and developments may cause its views to change, it specifically disclaims any obligation to update these forward-looking statements, except in accordance with applicable securities laws. Accordingly, readers are advised not to place undue reliance on forward-looking information. All subsequent written and oral forward-looking statements attributable to Everton or persons acting on its behalf are expressly qualified in their entirety by this notice.
Neither TSX Venture Exchange nor its Regulation Services Provider (as that term is defined in the policies of the TSX Venture Exchange) accepts responsibility for the adequacy or accuracy of this release.